As more sports reach the end of their competition in this year's U15 World School Sport Games, the young athletes still have the energy to produce some wonderful performances. As usual, today was a busy for the event, once again, let us take you through the main events of the day!
First, the results!
FOOTBALL
Yet again, more games equal more goals, and meant we had some great spectacles throughout the day.
BRAZIL 7 – 0 FRANCE (girls)
UKRAINE (2) 3 – 0 PERU (boys) 
SERBIA 0 – 12 UKRAINE (1) (boys)
UKRAINE 0 – 6 BRAZIL (girls)
BASKETBALL
Some very close games today kept us on the edge of our seat. It goes to show how anything could happen as we move into the semi-final games! Girls and boys gave it their all today!
CROATIA 62 – 65 FRANCE (girls)
MONTENEGRO 32 – 67 CROATIA (girls)
SERBIA 57 – 76 MEXICO (boys)
UKRAINE 58 – 40 SERBIA (girls)
VOLLEYBALL 
Today marked the last day of volleyball's tournament and so we finally have the winners! Ukrainians took 1st place for the girls winning 3 – 1 against Croatia, with the Bulgaria winning the boys competition, against the hosts Serbia, winning 3 – 2.
Volleyball – ISF Events (isfsports.org)
TABLE TENNIS
Just like with volleyball, the table tennis doubles event came to an end today, and so we are now able to announce you the winners! 
In the boy's category the Ukrainian delegation won another gold medal. Distinguished performances from the Ukrainians Ovchynnikov Artem and Koloidenko got them over the finish line in first place.
It was the same story in the girl's category with consistency from the Ukrainians Sheredha Sofiia and Pavliuk Liudmyla taking them to gold!
Read here below for some results.
16-09-2021.-TABLE-TENNIS-RESULTS.pdf (isfsports.org)
CHESS
Once again, the Ukrainian delegation found a way to overcome their opponents in rounds 3 and 4. Milena Mosurovic the Montenegrin girl was the only player to maintain their 1st place ranking.
Girls: Chess-Results Server Chess-results.com – ISF U15 World School Sport Games – 2021
Boys: Chess-Results Server Chess-results.com – ISF U15 World School Sport Games – 2021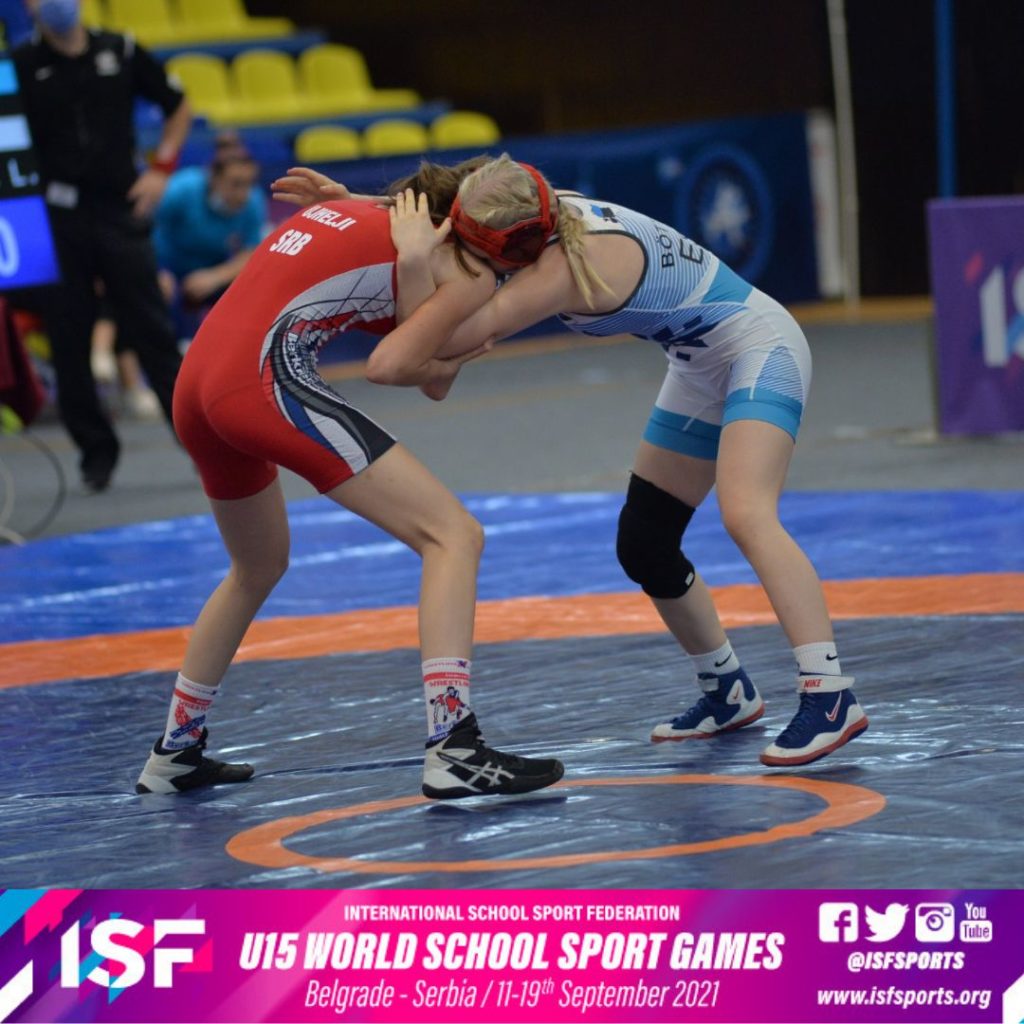 ORIENTEERING:
The delegations of Slovakia, Russia and Serbia had some great times in the multiple ongoing categories!
Orienteering Middle Distance – Babe Results (isfsports.org)
WRESTLING
For this second day of the wrestling competition, you were able to follow the girls' Wrestling Freestyle Competition, being broadcasted on the Olympic Channel, were you can also find the replay:
Girl rankings: U15-Wrestling-Girls-Ranking-16-9-1.pdf (isfsports.org)
Girl Brackets: U15-Wrestling-Bracket-1.pdf (isfsports.org)
https://olympics.com/en/video/girls-wrestling-freestyle-competition-isf-u15-world-school-sport-games-belgrade
SWIMMING
Yet another long day for the swimming athletes with plenty of heats going on today. An athlete from Mexico's delegation spoke to us briefly: "it's a lot of fun because you have to go through a lot of categories and you can express yourself". Don't miss the results of the day: 
All-results-swimming-ISF.pdf (isfsports.org)
BADMINTON
The ranked games and semi-finals took place today at the national badminton center of Belgrade, for both boys and girls categories.
U15-Badminton-Thursday-16-9-Results.pdf (isfsports.org)

Now it's time for some exciting news! Thursday 16 September 2021 – Today the ISF is proud to officially announce that Brazil has been chosen to be the next host of the ISF U15 World School Sport Games, taking place in 2023 under the new name ISF U15 Gymnasiade. 
Already looking forward to 2023!