As more and more sports see their competition coming to an end, it is our pleasure to announce some of the victors from this inaugural U15 World School Sport Games.
BASKETBALL
Let's start with basketball! Today saw the semi-finals, so we now know who our potential champions will be, with Mexico and Serbia reaching the final for the boys, and Ukraine and Croatia making It for the girls. The anticipation for tomorrow is incredible!
MEXICO 71 – 37 FRANCE (boys)
UKRAINE 71 – 37 MONTENEGRO (girls)
UKRAINE 39 – 70 SERBIA (boys)
CROATIA 62 – 37 SERBIA (girls)
BADMINTON
Today was the turn of the girl's and boy's mixed double tournament. A total of 12 games took place throughout the morning, with Saturday holding the finals for each badminton format.
https://www.tournamentsoftware.com/sport/tournament/matches?id=7301EEA2-4653-46C2-A691-D805F803A0E7&d=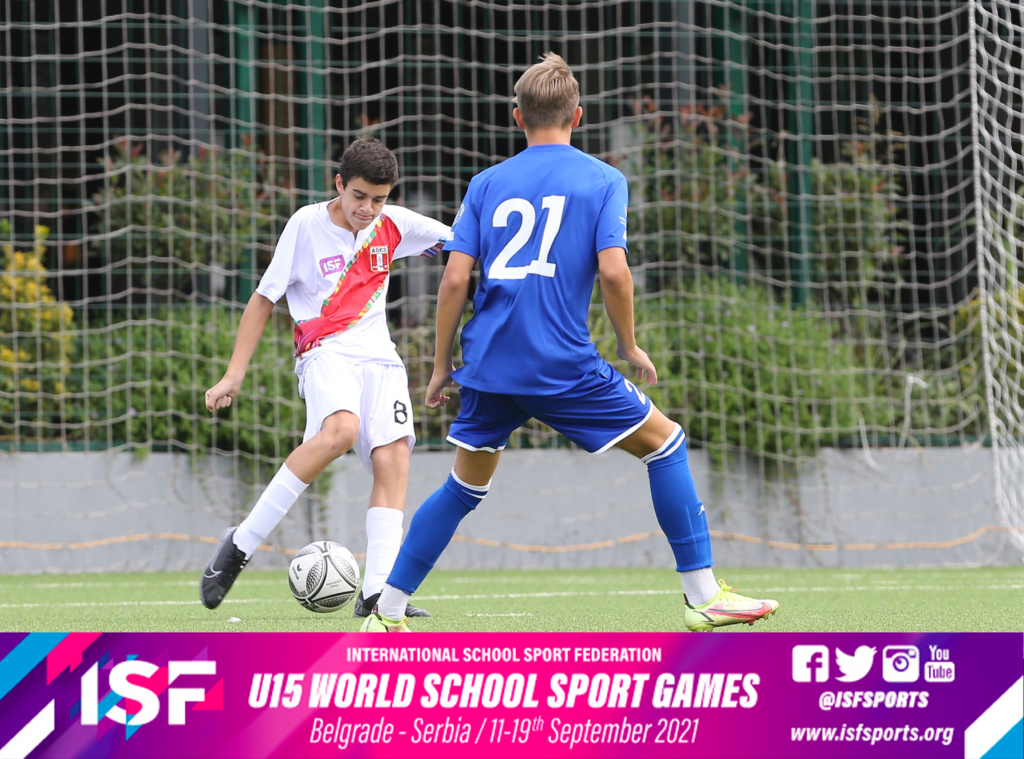 FOOTBALL
Yet another sport saw their semi-finals take place today! Ukraine (1) qualified for the final by winning 6 – 0 against Peru, and a a very tight match between Serbia and Ukraine (2), in the other semi-final saw Serbia win 4 – 3 to join Ukraine (1) in the final. I think we are all ready to see the finals tomorrow, for both the girls and boys!
CHESS
Last day of competition for Chess! The Montenegrin Milena Mosurovic ended the competition on top for the girl's tournament, and for the boys, the Ukrainian Semen Mitusov continued his success of the week by also finishing at the top the table.
http://chess-results.com/tnr578381.aspx?lan=1&art=0&turdet=YES
http://chess-results.com/tnr578380.aspx?lan=1&art=1&rd=5&turdet=YES&flag=30
TABLE TENNIS
It was a special day of competition today for table tennis, with 'The Friendship Doubles Competition'.
A further in-depth explanation was given by ISF Table Tennis Technical Commission President Mr Pieter Schippers: "With ISF we organise 'friendship doubles' which is something never seen in the ISF. The friendship doubles is a special tournament that gives the opportunity to these young athletes to find out more about each other, mixing with other players. The operation is to make a double tournament, it can be teams with different nations, with different genders, everything is possible but if they win they go to the next step with a new partner. So you can go to the final in 4 rounds with always an other partner because it gives the opportunity to play with a partner from another country, and with partners you have to play together, you have to communicate and we know from the past that we saw kids sharing their Facebook, Instagrams and actually keeping in contact only from playing one match together in a friendship event. It's very social." What a brilliant idea giving the chance to make new friends, and discovering more about other athletes from other countries, connecting over the sport they love to play.
Today marked the end of some sports competitions but it's not over yet! Stay tuned for finals tomorrow!