Team sports provide a great platform for spreading common values and bringing people together.
Being one of first ever sports to have an ISF event, basketball has long been a key player in the world of school sport, continuing to develop with the ISF U15 World School Sport Games Belgrade 2021 being the first ISF multi-sport event to include not just one but two formats, basketball and basketball 3×3. Their inclusion sends an important message to all young students involved in this competition, having gathered a total of 140 athletes from 10 different countries to play the sport they love, here in Belgrade. This message announces that the Games serve as a unique platform to educate young school student athletes on certain topics such as fairplay, gender equality, clean sport, Olympic Values and school sport values. Having a basketball 3×3 tournament at the ISF U15 World School Sport Games is extremely meaningful to spread the value of education and healthy habits among children. FIBA's definition "From streets to Olympics" perfectly describes this sport as it is considered the number one urban team sport. Samir Abaakil, ISF Technical Commission (TC) President of Basketball 3×3 explained more: "Basketball 3×3 has the power to bring together and promote individual and teamwork, we hope that it also plays an educational and academic role for the development of the individual as well as the society than just a sport that speaks to youth with a language they understand. Basketball 3×3 allows us to go where there is no basketball, as it is an accessible,unifying, and inclusive sport."
ISF Basketball TC President Renos Pittalis, spoke about the current growth of the sport: "Basketball is getting bigger and bigger in our ISF events. For sure it gives the chance to have more basketball players all around the world, to enjoy our ISF events. I think it is a big boost for ISF, but also the kids. We give them a chance to compete in such big events like here in Belgrade. It's not only about playing basketball but also about meeting people from all around the world and learning about their cultures."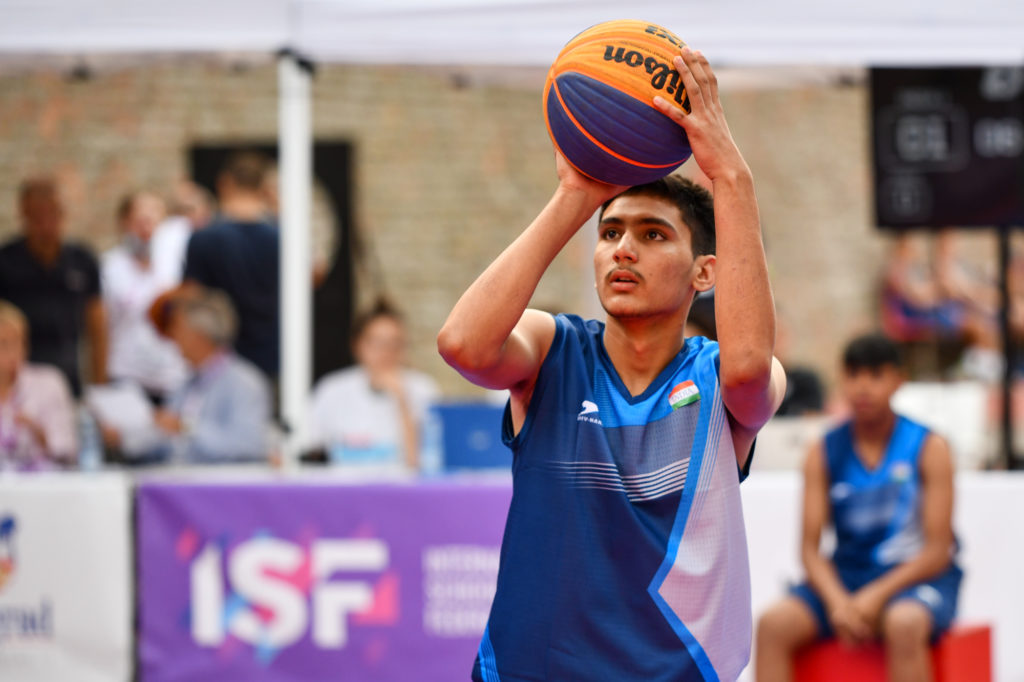 In the context of expanding the audience of basketball, the U15 World School Sport Games also saw the basketball semi-finals streamed on the Olympic Channel on September 17. The replay is available on their website here: https://olympics.com/en/video/basketball-competition-isf-u15-world-school-sport-games-belgrade
Basketball 3×3 was also streamed on the Olympic Channel. The link to the replay can be found at:https://olympics.com/en/video/3×3-basketball-competition-isf-u15-world-school-sport-games-belgrade
With the U15 World School Sport Games not being limited to just the court, young athletes had the chance to participate in educational events such as Fun & Skills Zone and Nation's Night that emphasised the role of sport and healthy habits, combining cultural interaction between the various participating nations.
These competitions are organised with the cooperation of the International Basketball Federation (FIBA). In order to internationally promote school sport, cooperate on important topics such as gender equality, respect and empowerment, and provide technical support to the events related to school basketball, the two federations began their cooperation in may 2014. This long standing relationship has assisted the development of basketball and other disciplines in ISF events and the implementation of sports values in school sport. 
With the close partnership of the ISF and FIBA, ISF invited Andreas Zagklis, FIBA Secretary General to share his vision during the "U15 School Sport Forum : The springboard for a healthy lifestyle" on 15 September. "We are pleased to see the basketball activity in a multisport event like this. It is certainly an event that sends a strong message of resilience of the sports family. For us, it is part of our strategy to enlarge the FIBA family by collaborating with institutions that have a really high level of organisational capacity, like the ISF." said Mr Zagklis. He participated in a panel session on sport values in every classroom and highlighted that when we talk about sport we think about competition, but the most important thing for youth is learning from sport life skills, in order to succeed.
ISF President Laurent Petrynka further added: "Basketball has always been one of the key sports on ISF programs, especially an attractive format of 3X3. We appreciate the support of FIBA's expertise which has a tremendous impact on the development of basketball in school sport and the promotion of education and the empowerment of youth."