The morning of 15 September marked yet another historic moment for the International School Sport Federation with the launch of the ISF School Sport Forum 'The Springboard for a healthy lifestyle' taking place in the context of ISF U15 World School Sport Games in Belgrade. This ISF creation presented the opportunity to gather a wide variety of governmental decision makers in the fields of sport and education as well as some of the most renowned and respected organisations and federations to discuss the role of education and sport in the development of youth.
Taking advantage of such opportunities to assemble important figures from the worlds of sport and education are important, emphasised by Mr Vanja Udovičić Minister of Youth and Sport of Serbia "We do not have many opportunities to meet and talk about important topics of society, and because of that I am very proud that today in Belgrade we can hold this important forum and speak about the most important topics regarding sport and education for youth." He continued by saying "For events such as the U15 World School Sport Games currently taking place here in Belgrade, we can agree that the competition results don't represent the sole importance of the event. It is our goal is to provide children with opportunities to learn about values such as fair play, gender equality, and respect. Because of this, we are grateful to the ISF for this opportunity to hold this incredible event and we look forward to seeing the remaining days unfold."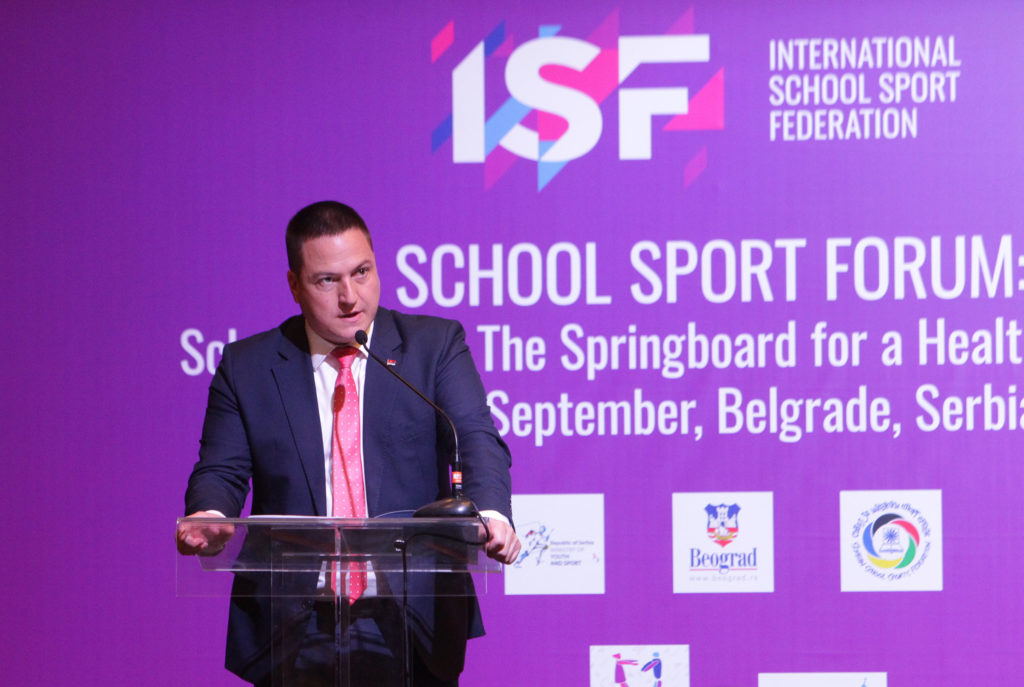 Following these opening words from Minister Udovičić, First Deputy Prime Minister & Minister of Education of Serbia Mr Branko Ružić continued by outlining the importance of national education and sport. "Serbia cherishes a very rich educational tradition and the government advocates and invests a great deal in sport. We pay special attention to the development of sport in school; therefore, it is important to re-emphasise the importance of this topic. Physical activity and sport engagement at the school age is very important for the proper development of children." He then spoke about the important benefits to sport programmes in schools "School sport programmes covering all students must ensure the fostering of a healthy lifestyle. Such activities enrich the social life of school students, developing and nurturing friendships."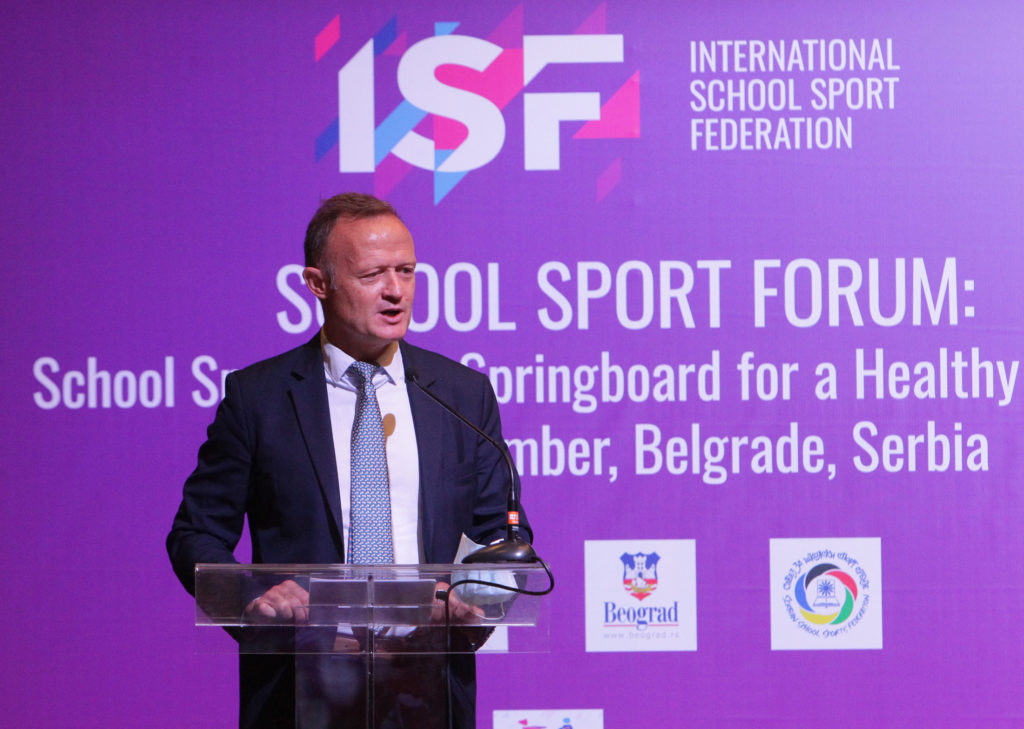 To conclude the opening of the ISF School Sport Forum, ISF President Laurent Petrynka spoke of how important structured school sport is "Sport is an effective learning tool even for themes going beyond sport itself, and we believe that it is not enough used, particularly by public authorities." With this President Petrynka also emphasised the urgency to actnow. "The fact that 45% of young Europeans say that they don't practice sport more regularly due to a lack of time means that we have to, more than ever before, strengthen school sport. To provide more opportunities to school children to be more physically active inside schools. For a lot of youth, school is the only location in which they practice sport in a structure manner." He ended by assuring everyone in attendance that this concept will be a staple in the ISF calendar "We are eager to listen to you. As we believe that the opportunities to speak about school sport and to share experiences are too few. We can confirm that an ISF School Sport Forum will take place on a yearly basis."
Following the welcome words from the Serbian authorities and the ISF President, it was then onto introducing the themes of the conference, 'Sport Values in Every Classroom' and Healthy Habits for Youth. Opening this section was ISF Executive Committee member Mr Roman Greba, who took to the stage to introduce the mission and vision of ISF, providing some insight to the attendees on what the ISF is and how it operates. It was then the turn of Ms Nancy McLennan of UNESCO, who joined the conference online, to go into more depth on the two themes, speaking about how they sit at the heart of UNESCO's work in sport "Increasing participation in sport and adding values of education through sport is even more important in light of what we can already see on the physical, mental, and social impacts that have been brought about the COVID-19 pandemic." Following Ms McLennan was Ms Florencia Van Houdt, Head of the Sport Unit of the European Commission. Through its Erasmus Plus Sport Programme, the European Commission supports partnerships with organisations to work on identified good practices and challenges on the ground. With the 2022 budget being the double of the previous year, there are now even more opportunities to apply for support through this programme "We can be active, we can be together, and we can promote sport."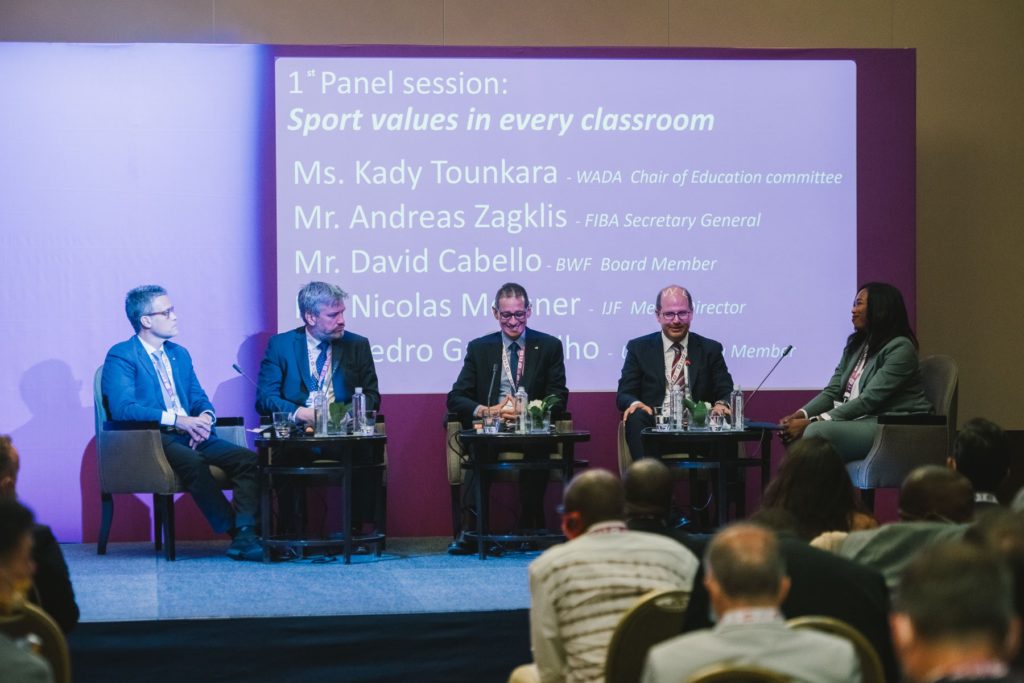 The first session of the forum titled 'Sport values in every classroom' was begun by Ms Kady Tounkara, World Anti-Doping Agency (WADA) Chair of Education. When asked about the expectations of WADA and sport organisations when it comes to implementing sport values and healthy lifestyle habits, she responded with "Ultimately it's about prevention. The goal is to ensure that every athlete is educated. We believe all athletes start 'clean'. Therefore, the way WADA engages in this is through education first." Continuing on, Mr Nicolas Messner – International Judo Federation (IJF) Media Director, spoke about what IJF are initiating in their school programmes "We offer children an environment where they can have fun and through that learn values. If we engage youth immediately on the subject of values, it's hard for them to understand it. We try to create an environment where children learn by doing." Staying on this aspect of strategy, Mr Andreas Zagklis, International Basketball Federation (FIBA) Secretary General explained a concept being implemented by FIBA "As part of our strategy and collaboration with ISF, mini basketball has its own manual on how to teach it, and through this foundation we are educating mini basketball not only to tournament organisers but also to teachers. This can improve the implementation of Basketball in schools, helping their level to become close to that of clubs." It was then the turn of Mr. David Cabello – Badminton World Federation (BWF) Board Member. He proceeded to present to the forum the BWF concept 'Shuttle Time' which consists of lessons that can be freely accessed which are designed to provide children with a positive image of badminton through many opportunities. "The most important thing for 'Shuttle Time' is that it represents respect, equity, and inclusion which is a good summary of the BWF core values. Our aim is that badminton remain an accessible sport for people at a young age, of any ability or background." To round off the first session, it was then the turn of Mr Pedro Gama Filho, United World Wrestling (UWW) Bureau Member, talking through some of the federation's initiatives focused on school sport "We wish that through the most natural and one of the oldest sport, young people acquire skills to become champions in their lives. School sport is so important that we have developed programmes such as 'More than Medals' and 'Wrestle4Fun' to better approach athletes in school sport."
---
The second session titled 'Healthy habits for youth' saw the speakers present a variety of topics and solutions targeting extracurricular activities for youth. The need to refine and expand the processes already in place for the identification of physical activity for everyone so that the individual can flourish through physical activity. Furthermore, this must be linked to broader health policies than those usually mentioned, such as orthopaedic deficiencies or even the strengthening of bones and the balance of the body. The desire to play sports should be created by setting clear goals and plans based on individual needs. The reasons why the various partners must engage in this type of broader innovative programs are that school sport is the activity that allows young people to have the most regular sporting activity and that allows them to maintain a good health. This is the fundamental impact of school sport.
Quotes from the four speakers of the second session: Healthy habits for youth
Jelena Gudelj Rakić from the Institute of Public Health of Serbia – "As an institute, we have many sports programmes promoting recreational sport activity, that are fun and engaging for children with any interests"
Milan Pašić, Ministry of Education, Science and Technological Development of Serbia – "The concept of health education must include school sport"
Mr. Duško Spasovski – Faculty of Medicine, Belgrade – "For every child there is a perfect sport for them. The biggest problem is refining the selection process, how to advise them on what specific sport to go to while taking into consideration their physical ability."
Caterina Pesce, University Foro Italico, Rome, Italy – on the necessity of reinventing physical education "To guarantee that kids have fun while moving is the best strategy to make them have an active life"
---
The Forum was the opportunity to present actions undertaken by France and Ukraine in terms of mega school sport events.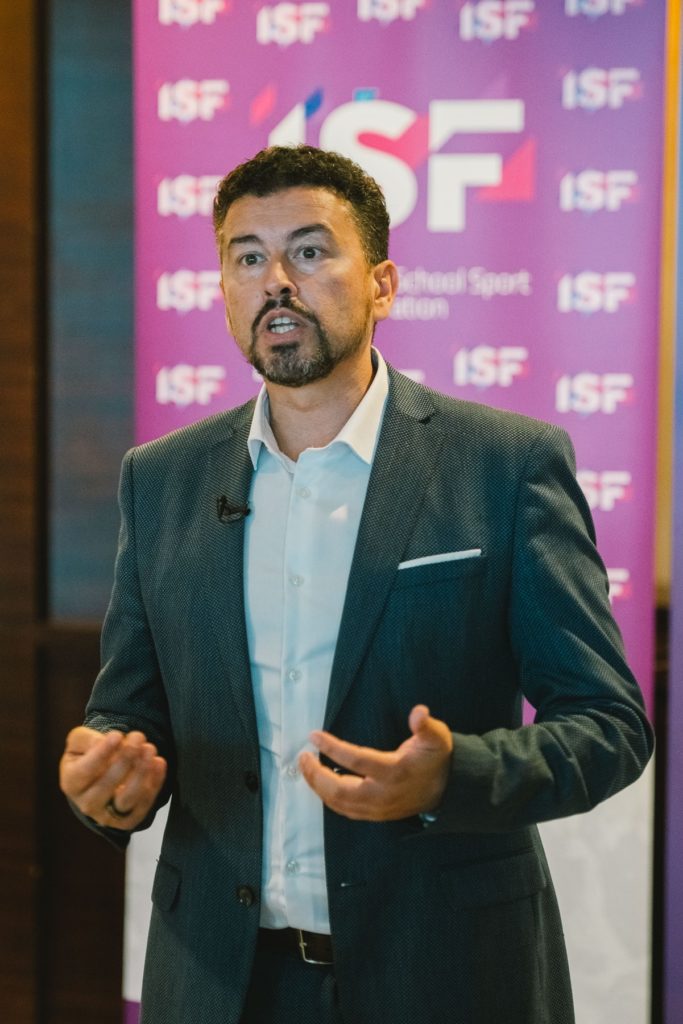 Mr. Karim Herida, Deputy to the interministerial delegate for major sporting events (DIGES), of the French Ministry of Sports, presented the actions around the 'Olympic generation Paris 2024' concept as part of hosting the 19th ISF Gymnasiade – Normandie 2022 which are called the 'Games before the Games'. School sport is important because, for 80% of young people, it provides most of the sporting activity. He insisted on the dramatic situation of young French teenagers, with sedentary lifestyles increasing among young people as they abandon sports activities, with the saying "the chairs kill". It is for these reasons that France is hosting the 2024 Olympic and Paralympic Games and the ISF – Normandie 2022 Gymnasiade. With the Gymnasiade, it is important to show French youth that the legacy of the Olympic Games is built well in advance with the Gymnasiade.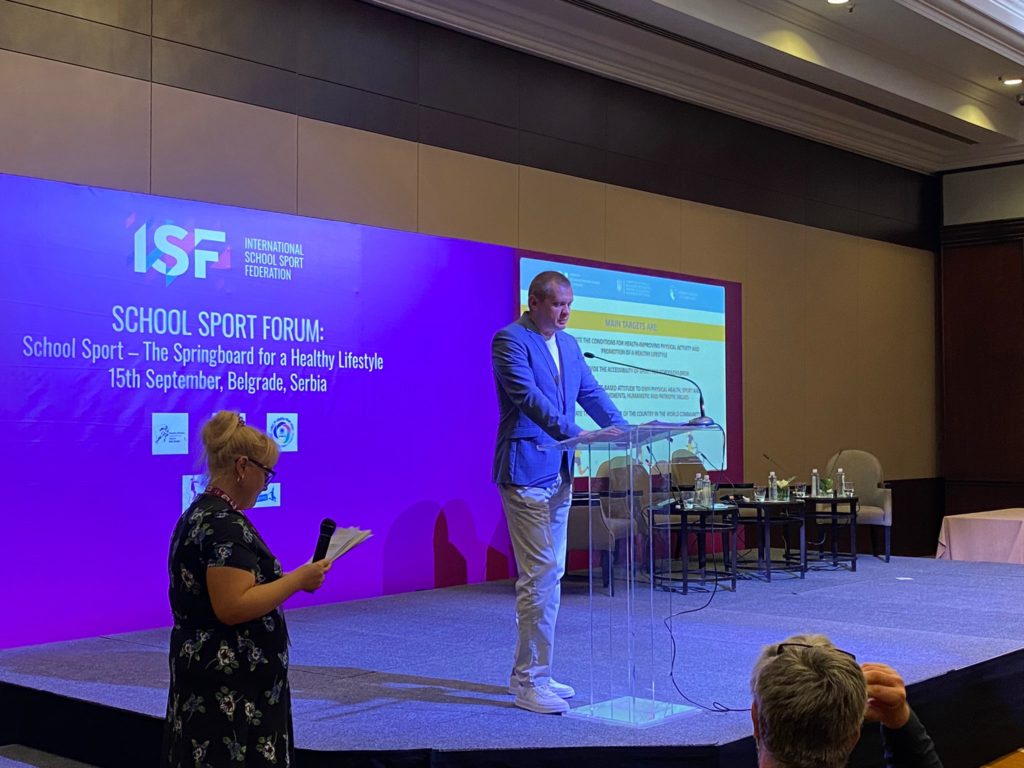 Arthur Seletskiy Deputy Minister of the Ministry of Education and Science of Ukraine, under the theme 'Physical culture. Healthy generation' presented some initiatives that are being implemented within schools in Ukraine, such as 'Active Breaks' or the introduction of Cool Games activities at national level as well as E-sport Games which must be done in conjunction with physical activities. For the ISF initiative the Universal Teachers Games, we are developing activities dedicated to physical education teachers. Lastly, Ukraine wants to host more major international sporting events since 2019.
The other significant moment of the day was the signing of the MoU between ISF and FIDE. Mr Arkady Dvorkovich, President of the International Chess Federation (FIDE), said that he is extremely excited to develop a closer cooperation with the school sport community to bring chess to schools from the grassroot level, through the ISF online chess championship and to the ISF Multi-sport Mega-Events within the first ISF U15 WSSG Belgrade 2021.